Attorney Charles Burnham
Location: Washington, D.C.
Phone: 202-386-6920
Fax: 202-765-2173
Email: charles@burnhamgorokhov.com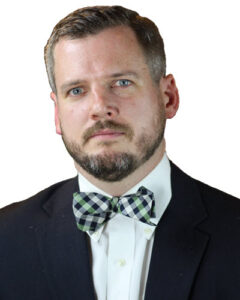 Charles Burnham focuses his practice on criminal defense.  His criminal practice encompasses both white collar offenses such as fraud or bribery and traditional criminal offenses such as violent crimes or crimes involving illegal narcotics.
Before entering private practice, Mr. Burnham served in government as a judicial law clerk and public defender. In his time at the public defender's office, Mr. Burnham learned to handle all kinds of criminal cases, including juvenile cases, traffic court cases, felonies, misdemeanors and appeals.
In 2009, Mr. Burnham formed Burnham & Gorokhov, PLLC with law school classmate Eugene Gorokhov. Mr. Burnham and Mr. Gorokhov continue to collaborate on most of the firm's significant cases. Select representations include:
Represented an accused Russian agent in the Southern District of New York.  The case was ultimately resolved by a negotiated agreement resulting in the largest spy swap since the end of the Cold War.
Represented business owner charged in the famous "Africa Sting Case" in DC district court – the largest individual bribery prosecution in the history of the Foreign Corrupt Practices Act.  All charges were dismissed prior to trial after nearly two years of litigation.
Represented multiple individuals in connection with Congressional investigations.
Represented individual charged in alleged fraud conspiracy in the Western District of Michigan involving African gold mining operations.  All charges dismissed following extensive pretrial litigation including motions to suppress based on government mishandling of evidence and motion to recuse the lead United States Attorney.
Represented chief executive of well-known DC area nonprofit under investigation for mishandling of funds.  No charges filed.
Represented government contractor in corruption investigation conducted by Department of Justice Public Integrity Section and U.S. Attorney's Office for Eastern District of Virginia.  Resolved without charges.
Represented political consultant under investigation for fraud and campaign finance violations.  Resolved without charges.
Represented individual charged with felony assault on a police officer in Virginia state court.  Not guilty verdict following defense based on excessive force by police.
Mr. Burnham also has significant appellate experience, having handled cases before the Virginia Court of Appeals, Supreme Court of Virginia, the DC Court of Appeals and the Fourth Circuit Court of Appeals.  Select representations include:
U.S. v. F.C., (4th Cir. 2013)(forced medication order reversed on interlocutory appeal)
S.M. v. U.S.,(D.C. 2014)(drug conviction reversed based on erroneous evidentiary rulings)
A.M. v. U.S., (D.C. 2015)(drug conviction reversed based on suppression)
S.C. v. U.S., (D.C. 2015)(criminal conviction reversed)
A.S. v. U.S., (D.C. 2016)(criminal conviction reversed)
Mr. Burnham is active in a number of professional organizations and attends several conferences every year to stay up to date on developments in the law.
Outside of the law, Mr. Burnham is active in the local community and has served in a number of leadership roles.  He is a past president of the Monsignor Wells Division of the Ancient Order of Hibernians, past elected member of the Father Rosensteel Clubhouse Association Board of Directors (Knights of Columbus) and an active parishioner a St. Andrew the Apostle Catholic Church in Silver Spring, MD.
Areas of Practice
White Collar Criminal Defense
Federal Criminal Defense
Government Investigations
Grand Jury Matters
General Criminal Defense
Litigation Percentage
100% of Practice Devoted to Litigation
Bar Admissions
Virginia
District of Columbia
U.S. District Court Western District of Michigan
U.S. District Court for the District of Columbia
U.S. Court of Appeals Fourth Circuit
U.S. District Court Eastern District of Virginia
U.S. District Court for the Western District of Virginia
U.S. District Court for the District of Maryland
Education
George Mason University School of Law, Arlington, Virginia
J.D.
Law Journal: Federal Circuit Bar Journal, Associate Editor
Virginia Tech, Blacksburg, Virginia
Professional Associations and Memberships
District of Maryland Criminal Justice Act Panel
Eastern District of Virginia Criminal Justice Act Panel
Catholic Charities Legal Network
Federalist Society
Past Employment Positions
Assistant Public Defender, Arlington County, 2007 – 2009
Judicial Clerkship, The Honorable Jane Marum Roush, Fairfax Circuit Court, 2006 – 2007
Community Involvement
Ancient Order of Hibernians

State Board Vice President 2021-Present
State Board Secretary 2019 – 2021;
Division Treasurer – 2019-Present
Division President 2018 – 2019;
Division Vice President 2017 – 2018.

Knights of Columbus – Father Rosensteel Council #2169
Father Rosensteel Clubhouse Association Inc. – Board of Directors 2019 – 2021
St. Andrew the Apostle Catholic Church, Silver Spring, MD – parishioner